Ninja Parc has opened its fourth and largest site, and the first location in Sydney – just in time for Ninja Warrior Season 2022.
The 1160m sq new business opened in April at South Granville, providing customers with a full-sized obstacle course featuring rope climbs, bouldering challenges, vertical and horizontal doors, poles and the warped wall.
The centre also offers parkour classes, birthday parties and an onsite cafe.
An experienced business owner and franchisee Arvinder Gandhi takes ownership of the new site; he said he already knew the value in investing in a franchise model, it was the distinct business model and revenue opportunities offered by Ninja Parc that stood out to him.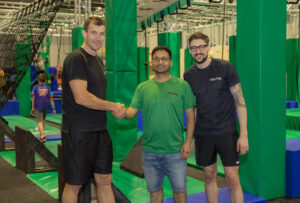 "It was early 2019 when I arranged a meeting with [founder] John Pirlo at Ninja Parc Cooks Hill. I was fascinated by the business model. It had a vast range of obstacles not only for kids but for adults and young adults, kids' parties, and corporate parties.
"Despite having run many businesses during my career, including other franchises, I'd never seen anything like this before. Here I am three years later about to open my own.
"We're super excited to open. There are lot of sport activities available for kids in Sydney but this is one of a kind, a novelty for the city. No sports centre or recreational centre in the area has anything like this."
Ninja Parc Western Sydney is located at 62 Ferndell St, South Granville – just 10 minutes from Parramatta.
Ninja Parc has locations in Melbourne, Newcastle and Townsville and recently launched a new addition, a more compact version called Ninja Parc Base. The new business model fits into a smaller footprint with a lower-cost entry point than a full-size site.
As Australia's largest indoor obstacle course provider, Ninja Parc attracts hundreds of thousands of individuals and families. Learn how you can become a Ninja Parc franchise owner – www.ninjaparc.com.au/franchise-opportunities/
Read article in Franchise Business.